Introduction
by Deanna Sirlin


Editor-in-Chief
The Art Section


Happy New Year!
I am really delighted to present the January 2011 issue of The Art Section, TAS. Our three writer/ artists examine the idea of inspiration and look into both the psyches and the lived reality of artists. From London, Anna Leung takes us on a tour of the Gauguin exhibition that is just about to close at the TATE Modern but will reopen on February 27 at The National Gallery of Art in Washington, D. C., where it will run through June 5, 2011. The title of the exhibition, Gauguin: Maker of Myth, is illustrative in that it focuses on both the man and the romantic ideal. Leung helps us to comprehend the façade, the fantasy Gaugin created, and the reality of his life in a way that makes Gauguin all the more vivid and contemporary.
Exploring his own process is Parisian musician/composer Frédéric Maintenant, who meditates on where and how his music comes from, how he works and thinks. Unlike Gauguin, Frédéric is based very much in reality but still uncannily allows his artistic self to linger in the poetic. Thank you, Phil, for your translation of Frédéric's words which we present here with his music and his original French text. Dina Belke, who working on her first novel, approaches the ideas of inspiration and artistic process from a writer's perspective. She wanted to know more about how other writers got to the place of inspiration. Dina gives us the results of her very interesting and inspiring investigation.
Wishing you an inspiring year.
Deanna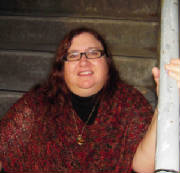 Deanna Sirlin is an artist and writer based in Atlanta, GA. She is Editor-in-Chief of TAS. www.deannasirlin.com
Images above (left to right): Paul Gauguin, Portrait of the Artist with Idol, c. 1893. Collection of the McNay Art Museum, Bequest of Marion Koogler McNay. Frédéric Maintenant in performance.