299 Grand Street, New York, under construction.
The East Village Art Scene and the Lower Eastside
By Marc J. Straus
It is now 25 years since the dynamic art scene in the East Village dwindled away completely. It was obviously not meant to be a permanent fixture, but rather fluid, vital, and courageous, and in retrospect, necessary for the future of contemporary art. At its peak there were over 60 galleries tucked into tiny storefronts across Alphabet City, which was dirty and somewhat dangerous. Now the new happening is on the Lower Eastside between Canal and Houston Streets and already there are nearly 100 galleries.
I owned a gallery in the East village and now own one on the Lower Eastside (LES). There are only a few galleries that have continued from the East Village to the LES, such as Jack Shainman and Barbara Gladstone. My journey is more disrupted. I am first a collector of contemporary art and have focused on finding new talent since medical school. In 1985-6 I took over Piezo Electric, a gallery in a hole-in-the-wall run by two youngsters. It took us 17 days to build our new space on Avenue A. We showed Jack Goldstein, Mike Bidlo, Rick Prol, and others, and were open on Sundays when the big collectors like Charles Saatchi all came. We were instantly "hot," along with Nature Morte and International with Monument where I found Jeff Koons showing basketballs in fish tanks. The East Village always felt experimental. It afforded new artists a venue for work that would not have been shown in SoHo where all the established galleries congregated. By the mid-80's the art market was really hot and dominated by a few galleries where works by artists like Julian Schnabel and Anselm Kiefer were snapped up at great prices. In the East Village everything seemed at the beginning and Keith Haring was not yet in the mainstream. It was the time of the tragic plague – AIDS -- and so many in the art community became ill and died. It was a party scene, gay and straight and drugs. Everything seemed incandescent and tentative – even life.
I knew it wouldn't last and I wanted to move to SoHo where ironically the rent was much less. My partners refused, thinking the East Village would last forever. But alas it had terminal velocity. And I was working over 90 hours a week as an oncologist so I withdrew.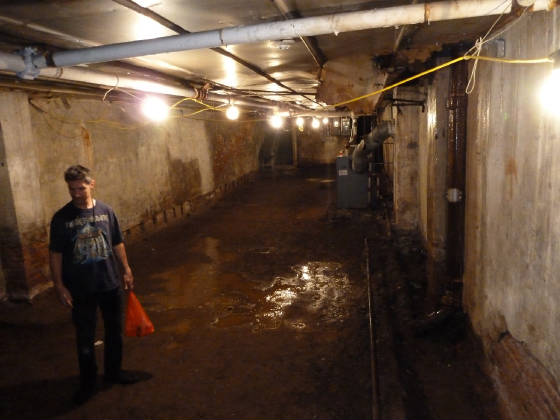 299 Grand Street four months before the gallery opened.
Then in the early 90's the art market collapsed. Warhol's prices had disintegrated and new artists hot at the end of the 80's saw their commercial careers ended, few to ever recover. And then some brave SoHo gallerists moved to Chelsea, where there were large taxi garages and no subway or restaurants. I was skeptical of its success but of course with the large high-ceiling walk-in spaces and rent a small fraction of SoHo, it won out.
Over the ensuing years my life took various turns. I founded a contemporary art museum in an underprivileged area one hour north of New York City and I found a calling in writing poetry. But I was drawn again to open a gallery. Here with only a handful of artists one could help individuals establish careers in ways that collectors and museums cannot. And it is a business which I actually enjoy. But as a business model it is almost nonsensical. Each show you start anew with no guarantee of repeat business or success.
When I retired from my medical practice the draw to open a commercial gallery was powerful and I began to look at numerous spaces in Chelsea. Eventually I felt as though I would wind up with a cement box, just not as grand as the big players like Zwirner and Gagosian. And I kept returning to Grand Street and to one building owned by my family.
On the corner of Grand and Eldridge my immigrant orphaned dad, then in his 20's opened a textile store where I worked part time from age 5 until I graduated medical school. I loved every minute of it, selling sheets and bedspreads to people of every nationality. When I was 13 my dad, at my urging, bought 4 more buildings on the street. Over the last 20 years the 400 Jewish textile businesses there have almost all disappeared and now many of the businesses, especially near Grand, are owned by Chinese immigrants. Orchard Street is specialty boutiques and new restaurants. My tenant in 299 Grand was selling knock-off New Balance shoes and the building was in rot. It was here I saw my space.
299 Grand Street under construction (interior).
But the decision, of course, was made easier as there were already some 60 galleries nearby. In the course of barely 5 years galleries popped up in storefronts across the entire area, some congregating near the New Museum, newly constructed on the Bowery. This was a neighborhood filled with change and promise, where smaller storefronts existed as in almost no other neighborhood. There were no big box businesses. Spaces were too small for the big boutiques. New gallerists came in who could rent 500 or fewer square feet; the daring could go a bit higher.
Here were the galleries again with almost all the best new talent on view. There is something very precious when someone opens a space where everything is at risk. My space is in an old immigrant building which I rebuilt just as I wished. I left the brick remnants and scars from the hundreds who had lived there, most just off the boat. I brought in 300 year old hickory floor planks and lighting that would do justice to good work.
The LES is markedly different than the East village was. It will stay. There are now some 100 galleries and almost every newcomer gets into the best art fairs is from here. These buildings will not be changed much so accessible storefronts will remain and rents will go up, but the possibilities for a new gallery continue. The art world is markedly different, very international now with dozens of fairs, biennials and twenty times as many collectors.
Next door to me on one side a woman walks back and forth soliciting business for a massage. I want to tell her that if she dressed much better she would have more success. Across the street in the street level of my buildings are a fish market and vegetable store and upstairs I have artists in from Romania, Berlin and Dresden, painting for their shows with me and absorbing a bit of the color and specialness of the neighborhood. I walk happily into 299 Grand every day. A stupid idea for a business, but I love it.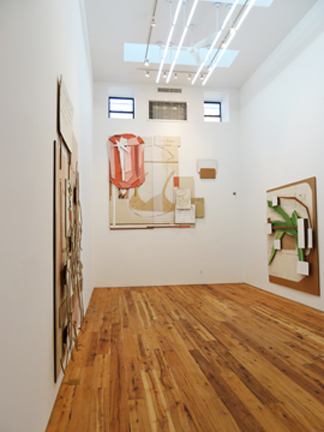 Opening show at 299 Grand Street: Birgit Brenner, January 2012.

Marc J. Straus is a poet and gallerist as well as a physician. His poems have been published in major literary reviews and the Fall 2012 issue of The Art Section. He frequently writes about cancer medicine, about the dialogue between patients and health care providers, about ethics, and most importantly, about how information is conveyed and received.
.