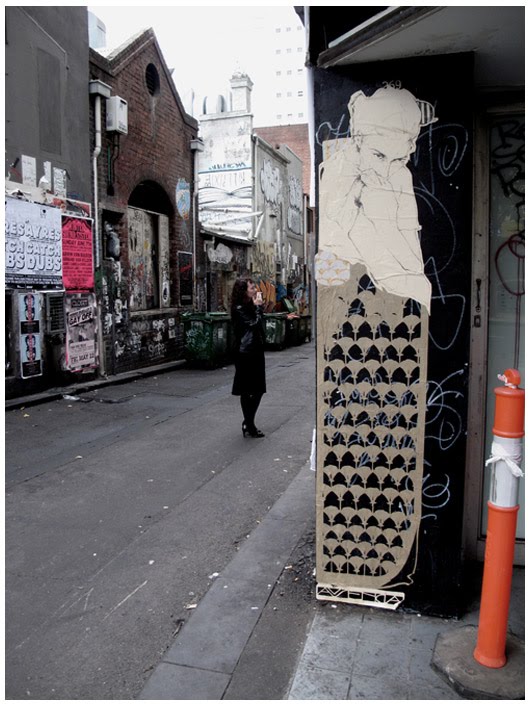 Miso
Street Art Work. Courtesy of m-i-s-o.com
Although the word miso is meaningful in many contexts, in the art world it's the name of a vibrant twenty-one year old Australian street artist, based in Melbourne, who also answers to Stanislava Pinchuk. Why she goes by Miso is a mystery, but her artwork and wheatpastes have inspired people around the world, and I can proudly say that I am a victim of her artwork. When I first saw pictures of her art I was fascinated by the way she juxtaposes strong elements of design with the fragility and vulnerability of drawn lines. The stark contrast between the graphic elements and the drawn moments in her work create nothing but energy as the two both combine and play off of each other. Many of her pieces remind me of icons, and have become icons of sorts to me personally.
I am biased in my evaluation of Miso because I identify with her as a young female whippersnapper. But I believe Miso's work clearly speaks to a broader audience that extends well beyond her peers. As street art, her work is very public and accessible, which is something viewers can often relate to. But Miso's work stands out because of the uncommoness of her subject matter and execution. The images of cloaked female figures Miso often depicts are thought provoking. Technically speaking her work is beautiful, features great juxtaposition, and her talent is apparent, but the true strength of her work lies in the responses it eovkes and the tickling sensation she creates in your mind. Miso is nothing short of a magician.
Recently, I had the opportunity to interview Miso by email. Here are my questions and her answers.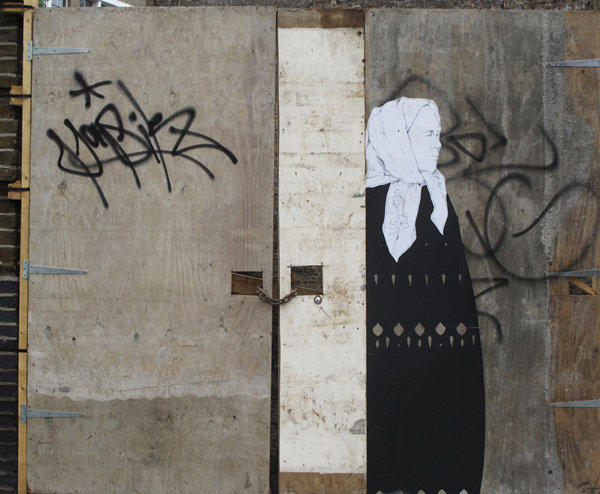 Miso
Street Art Work. Courtesy of m-i-s-o.com
How did you begin to do street art? Were you heavily involved in art before you began your career as a street artist?
Miso: I've always drawn, sewn, made little things - for as long as I can remember, really. I started seeing great street art and graffiti at about 14 - I was going to an inner city high school, and it was a really great time in Melbourne for street art. There would be new things every single week to look at, really exciting way to explore the city. The aesthetic of stencils really appealed to me - I was really into punk then, and I'd vaguely made stencils to make my own t-shirts, patches, etc. So I began putting up little stickers, making stencils, drawing wheatpastes and also meeting more and more people that were doing the same thing. Eventually, it evolved to the more drawing-based practice I have today.
Growing up what was your life like? How did your surroundings influence you and your artwork?
Miso: I grew up in Kharkov, Ukraine - in a 9 story concrete apartment tower. It was right on the edge of the Rogan' district, in the last row of flats before the small farms and old-fashioned country houses over the road. I love it there, and I do miss it a lot - now that I'm in Australia. I do find it inspiring; the history, the language, the folk art, the architecture. But it's important to be inspired by things outside of your immediate experience too - I find myself returning to places that remind of me home, like Berlin, but also to cities like Tokyo or London - that don't have much in common at all.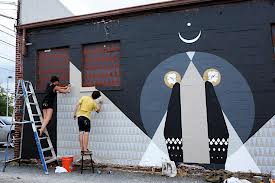 Miso
Street Art Work. Courtesy of m-i-s-o.com
Is your artwork strongly driven or influenced by any aspects of your culture?
Miso: I do think that my work, for a time, was really informed by my Ukranian upbringing. The time in which I made my street pieces, I was going back and forth from Ukraine a little bit. A lot of the people I drew, the cut-out shapes and illustrations I was doing around that time were really heavily influenced by the streets, and architecture. A lot came from revisiting favourite museums, and trawling markets for old books and photographs.
What was your school experience like? Did you learn anything or great merit or significance in school?
Miso: School was fairly easy - in Ukraine, schools are quite strict, really academic. By the time we came to Australia, school was really easy for me. Here, the schools were a good deal behind what I had already learnt in Ukraine, so I'd mainly study ahead, and in my own time. This was pretty much the way it was until I finished. High school was great - I was a straight A student, with minimum effort. So aside from a few really great teachers, I'd say that most of my education happened outside of school. I read a lot, and skipped classes to go to the museums on my own, or to see artist talks in the city.
If you were to evoke any emotion from someone when they looked at your artwork, what would it be?
Miso: I don't try to dictate those things too much. I prefer to leave them more open. I think when you make street art, you leave your drawing behind, and the contact between artist & audience is severed. You never know what people think, or what they feel - unless they find you and write to you. But that's only a very small percentage of the people who ever see the work. I really like that mystery.
What female artist has influenced you most, and why?
Miso: I really, really love Tracey Emin. She's unapologetic about what she makes, but still speaks and writes about what she does so well. She's one of the few people that really lives their artwork, and I'm really inspired by the way she takes traditional female craft and uses it to express something really sincere, and often uncomfortable. Though there's always a long list of brilliant female artists: Luybov Popova, Varvara Stepanova, Hanna Hoch, Louise Bourgeois, Elizabeth Peyton, Aurel Schmidt, Swoon, the Guerilla Girls, Patti Smith, Kathe Kollwitz.
Miso (Stanislava Pinchuk) / b.1988, Kharkov, Ukraine. Lives and works in Melbourne, Australia.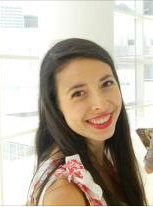 Arianna Mantas is an intern at The Art Section.