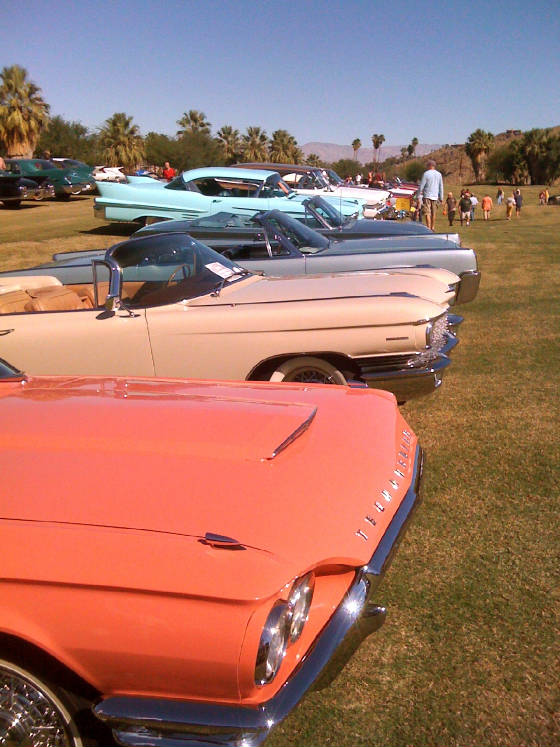 Some of the beautiful colors of cars from the 50's and 60's
Rolling Sculpted Steel
by William Stewart
Ever since I was a little boy, I have been fascinated with automobiles. On trips, my dad would give me a nickel for every car I identified correctly – this was the '60's and most cars were very distinctive. I racked up. If this happened today, I might not even be able to buy a candy bar – automobiles all seem to look alike. My fascination has not waned. I still love and appreciate automobiles, especially those from my childhood. If my father was still alive, he'd be proud that I saved all those nickels and bought some of the cars I had identified when I was a kid. They have withstood the test of time – transforming themselves info beautiful works of art.
What makes a car a work of art? In my opinion, it is a combination of appreciation and desirability over many years, and distinguishing elements that seem almost alien now like the gorgeous fins of the late fifties and early sixties. Some of the best examples are from Chrysler, Desoto, and Cadillac. Paint and color combinations seem to have been inspired by children's birthday cakes. Rooflines appeared more architectural than automotive. Designed and styled with imagination and little real concern for safety and fuel consumption, these automobiles incorporated many style changes every year. No two years were ever the same.
Bill Stewart's California home, showing three of his vehicles.
My major interest in automobiles hovers around the years of 1953 to 1962, when cars appeared more extreme and were styled by great designers, such as Harley Earl (who is credited with being the first automobile designer) and Bill Mitchell for General Motors, Virgil Exner for Chrysler Corporation, and Roy Brown, the designer of the now infamous Edsel for the Ford Motor Co.
Today, cars from the 50's and 60's seem to embody many of my fond memories of culture and romance. The bulbous fenders and the simplicity of style of my 1954 GMC pickup to the flamboyance of my 1959 Desoto Adventurer, resembling a Las Vegas casino, with slabs of gold anodized aluminum trim on its sides and tail lights that look like a vintage radio tower. My 1961 Cadillac Coupe De Ville is "conservatively" designed compared to the Desoto, which is like a folded piece of origami with fins and skegs that would seem more appropriate on an early Russian rocket. These cars were styled to look like they were going fast just standing still, which is ironic because today, the automotive performance of an entry level Toyota would leave these gilded monsters in the dust.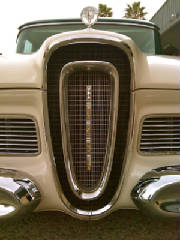 1958 Edsel Bermuda Wagon Grill
Apparently, beauty is in the eye of the beholder. Nothing better illustrates this than my 1958 Edsel. When this car first appeared many thought the front grill looked like a toilet seat, a horse collar, and even a vagina. Its sales were doomed, but Roy Brown's creation has a boatload of admirers now. It was beautiful because it bucked the mainstream, and rather than look stylishly forward, it looked to the past for inspiration, like a Packard from the 30's; rare for its time.
The 50's and 60's were truly the golden age of chrome. The designers applied so much trim and decoration that it borders on excess. There were two-tone and even tri-tone paint jobs. The fashion industry influenced the colors and textures of the interiors. There was even a car designed for women – a 1955 and 1956 Dodge La Femme that came with a makeup kit and purse. There were so many models, colors, and trim to choose from that many of the ones that survive are unique. This was a time of optimism in the auto industry and every change was only a year away.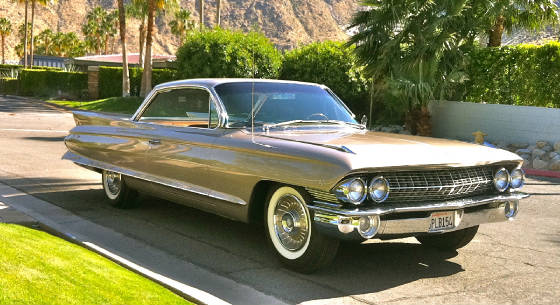 1961 Cadillac Coupe de Ville
Collecting cars is very much like collecting art. One seems to be drawn to certain years and styling features. There are the cars of the "fin years" (50's and 60's), muscle cars (the late 60's and early 70's), prewar classics (Packards and Cadillacs), etc. I like putting examples together that embody the unusual and not necessarily the popular. My collection includes the Desoto and Edsel which were marks that were cancelled in the early sixties because of the lack of sales. This and their unusual styling makes them fairly rare and desirable. I love the fins, the chrome, the colors, and the idea that these elements will never appear again. They are as much period pieces as any Picasso. Their sculpted metal is as precious to me as a Brancusi.
Rolling sculpture you can interact with, floating around the corners, looking through vast amounts of glass, watching the world watch you! This is the typical experience of driving or riding in one of these beautiful machines from my golden age. At home in the street, a garage, or even a living room, these cars are truly works of art.
1959 DeSoto Adventurer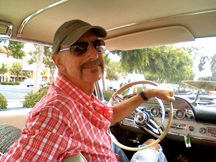 Bill Stewart in his 1959 DeSoto Adventurer.



Bill Stewart is an interior designer. He established his residential design firm, William Stewart Designs, Inc., in 1985 in Atlanta, Georgia. Bill splits his time between his homes in Atlanta and California. He has a collection of five vintage cars that reside in California.