Pichação at the São Paul Bienal. Photos: Choque Photos.
Introduction

By Deanna Sirlin
Editor-in-Chief
The Art Section




I am very pleased to present the issue of TAS for January 2009, which focuses on painting, a subject dear to my heart. This issue reflects on two artists, both modernists, and a current event that should be of interest to all concerned with art.

I am so pleased to have an article about Grace Hartigan, who gained recognition early in her career but sort of fell off the map in recent years. Hartigan died at the age of 86 on November 18th of last year. As an artist, she understood the physicality of paint and how the articulation of abstracted form can create both content and emotion. Hartigan's paintings, which straddled the line between abstraction and representation, are given a fresh reading here by curator and art dealer Michael Klein.

Anna Leung gives us insight into the painter Francis Bacon, who used form and the viscosity of paint to create works filled with strong meaning in a twisted and reformulated language that sprang from his genius. I think of his unflinching depictions of the human form, which have had such a powerful impact. The exhibition of Bacon's work at the Tate Britain that provides the starting point for Leung's discussion will tour to Museo Nacional del Prado, Madrid from 3 February – 19 April 2009. It will be the first ever major Bacon retrospective in Madrid, the city where he died in 1992 and which houses the great works of the artists he most admired, Velazquez and Goya. It will then travel to the US to the Metropolitan Museum of Art, New York from 18 May – 16 August 2009.

Our Brazilian correspondent, Christina Roiter, reports again about the São Paulo Bienal (click here to see her story from February 2008). A group of the Brazilian graffitists known as Pichadores tagged the second floor space that was left empty by the exhibition's curators. One was arrested and imprisoned for more than 40 days, and the space was quickly painted over. Although I do not wish to make a judgment about this event I must admit to being pleased that painting (or mark making—it's all the same thing to me) can matter so much.

All my best,
Deanna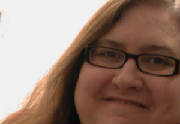 ---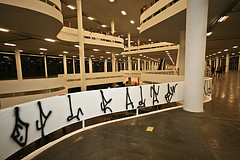 Pichação at the São Paulo Bienal. Photo: Choque Photos.
Pichação at the São Paulo Bienal:
Art or Crime?

by Christina Roiter




As I reported in the issue of The Art Section for February 2008, the curators of the 28th edition of the São Paulo Bienal, Brazil's major biennial art exhibition, decided to leave the 2nd floor of the pavilion empty, partly because of a lack of financial support for the exhibition and partly to serve as a manifesto on the emptiness of art at this moment. On opening day, a group of "Pichadores" invaded the building and covered the walls of the second floor with the distinctive style of Brazilian graffiti known in Portuguese as "Pichação" (or "staining") as an act of protest.

São Paulo, Brazil's financial capital, is completely covered in "pichações." They are displayed all over the city, with stains on the façades of buildings, houses, walls, etc. As in other cities throughout the world, there are many who revile this form of graffiti. and others who defend it as a form of popular art.

According to François Chastanet, writing in Eye Magazine,


Pichação first appeared in its current form in the streets during the mid-1980s, and since 1990 has gradually colonised the façades and tops of a variety of buildings in the capital reaching a climax in the second half of the 1990s. [In Pichação] the act of writing one's name and performing one's signature in a public space is more about seeing than reading. . . . The São Paulo milieu is unique because, unlike most other American, European and even Asian graffiti scenes, which reproduce New York letterforms more or less faithfully, the pichações have developed a totally different imaginary calligraphy. . . .

Stylistically they were originally influenced by heavy metal and hardcore logos of record sleeves of the 1980s (e.g. for bands such as AC/DC, Iron Maiden, Slayer or the Dead Kennedys, whose aesthetic has been adopted by local Brazilian bands such as Sepultura or Ratos de Porão) that were characterised by the use of hybrid blackletter and historic letterforms such as runes. A key feature is the integration of the letter's structure into the overall urban landscape. . . . [P]ichações share an aesthetic unity and visual sensibility with one another. This is what differentiates them from other types of graffiti which lack such homogeneity. New York graffiti transformed the sides of subway trains into mass-media surfaces. In São Paulo, architecture seems to be the preferred target for the writers, from immense office blocks to suburban houses. . . .

Such written signs are a product of the capability of the human body and the architectural rhythm of the different façades, giving rise to a singular vernacular calligraphy. The pichadores have developed a ductus or sequence of strokes which is concerned with structure rather than outline. . . . An awareness of this means writing can be used as an integrated element in the architectural context and not just an isolated element, applied by chance in space.


Only one of the 40 pichadores who invaded the Bienal to make pichações in a space purposely left empty by the curatorial group was arrested. Caroline Pivetta da Mota, 23, was locked up in a prison cell in the Penitenciária Feminina de Sant´Anna, in São Paulo, together with dangerous women prisoners, and has been there for more than 40 days as of this writing. She could be sentenced to as many as three years in prison, if convicted of destruction of public space.

But was this a crime, or an art action?

The group's provocative attempt to inscribe a manifesto on the so-called empty walls of the 2008 São Paulo Bienal, and the harsh response of the curators and law enforcement, created a feeling of déjà vu that brought back reminiscences of the military dictatorship of the 1960s and 70´s, when censorship scissors were sharp, and jail and torture were the punishments for any cultural manifestation at odds the political status quo. Is censorship back again in Brazil, in our most important visual arts event?

Pivetta da Mota wasn't the leader of the action. It was organized by Rafael Guedes, known as Pixobomb, who sought out the local media to assume "authorship." Guedes had organized two similar actions in São Paulo earlier in 2008, one as his thesis project at the Belas Artes University, and the other at the Choque Cultural Gallery. The latter action involved the defacement of works by British artists showing at the gallery. Pivetta da Mota, who claimed just to be watching the graffitists in action at the Bienal, ended up being carried away by the action, and was the only one arrested. According to Rafael Camargo Martins, a friend of Caroline who was jailed for 5 days because he brought her some clothes in prison and was recognized, "There is a certain pressure from the organizers of the Bienal to keep her in prison. They classified the act as crime and invasion, but it wasn't."

Defense lawyer Cristiane Souza de Carvalho says, "The curators had said in previous interviews that they would like the people to interact with the emptiness of the space. And that was what the group did. There is also a discussion in the lawsuit relating to the case if Pichação is art or crime. For many youngsters, the only way to manifest themselves is with a tin of paint in their hands."

The Bienal argues it has no responsibility for the arrest or release of the young girl—that the disposition of the case is up to the courts. The curators of the show, Ivo Mesquita and Ana Paula Cohen, refused requests for interviews. Before the opening of the Bienal, Cohen said she was informed that Pixobomb was organizing a group to do pichação on the empty 2nd floor of the Pavilion, and some have suggested that the curators wanted the attack to happen. The type of graffiti done by the pichadores inspired the artists Eli Sudbrack and Christophe Pierson, of the collective Assume Vivid Astro Focus, to create an installation in which colored neon lamps cover the walls with traces of spray paint. This work can be seen in Casa Triângulo, in São Paulo. The two participated in the Bienal with a series of actions on the closing day.

"The curators could have left the pichações on the walls, thus embracing the action. The questions the pichadores tried to raise relate to the theme of the Bienal, which intended to discuss the status quo and the elitism of art," says Sudbrack.

The artists Dora Longo Bahia and Mabe Bethonico, also participants in the Bienal, disagree. They condemned what they called a violent action by the group. Bethonico, who was a witness to the pichação, said that the youngsters attacked the public and security guards when trying to escape, and broke a window. Longo Bahia questions the action, because it was claimed to be "a terrorist act."

The action on the second floor of the building was considered "poetical terrorism" and "artistic intervention" by its defenders and "vandalism" displaying an "authoritarian attitude" by an official declaration of a Bienal that had "In Live Contact" as its theme and promised to reflect on the situation of contemporary art and art practice. "This is an absurd hypocrisy," said the artist José Roberto Aguila. "The organizers should be the ones to be arrested. The empty floor was an invitation for manifestations, to contraventions. The least the Bienal can do is send their lawyer to release the girl."

"Pichação" is a non-elitist form of art, one of the few true urban arts we have. The action of the pichadores confirmed the emptied walls and the emptied spirit of art in this Bienal and should have been recognized as the art action it was, a valid expression of angry feeling towards an icon of elitism in Brazil. The organizers of the event failed to see this and annulled it by immediately repainting the walls on the 2nd floor of the Bienal Pavilion in white and sending 23 year-old Caroline Pivetta da Mota to prison. [She has been released since.--Ed.]

What does it say that all this took place in the heart of the most important contemporary art event in Brazil, the 28th São Paulo Bienal?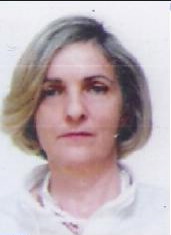 Christina Roiter is an artist and writer based in Rio de Janeiro, Brazil.

Photos courtesy of Choque Photos: www.flickr.com/choquephotos .


---
From left: Grace Hartigan, Inclement Weather (1970), courtesy of the Smithsonian American Art Museum; Grace Hartigan in her studio in 1993 with her painting Junk Shop With Egyptian Violet, courtesy of Marty Katz/baltimorephotographer.com; Grace Hartigan, Summer Street (1956), courtesy of the Corcoran Gallery of Art, Washington, D.C.
Grace Hartigan (1922 - 2008):
An Appreciation

by Michael Klein




Grace Hartigan was a painter who refused to be trapped by labels or styles. She was born in Newark, New Jersey, lived and worked in New York during the halcyon days of Abstract Expressionism, and then moved—because of love--to Baltimore, Maryland, where she lived, worked, taught and painted every day. Although she left New York City, she remained a presence in the Eastern art establishment.

Hers was a style that was both well thought-out and emotional, planned and yet inventive. On a recent visit to the Baltimore Museum of Art, my hostess and I, after enjoying the Cone sisters Matisse collection, trekked to the second floor of the new wing and looked at four large-scale paintings by Hartigan that had just been installed. Installed as a small tribute to a local painting hero, they now stood as a memorial, to her energy, vision, and longevity.

I first heard about Grace through a college friend who, like me, was in the Whitney Independent Study Program. I was studying Milton Avery's paintings with Hilton Kramer, and she had signed up with Irving Sandler and decided to work on a paper on Grace Hartigan. "Who is she?" I asked, "Grace Hartigan" she repeated and then pointed to a beautiful, fresh, lush abstraction called Sweden (1959) that we were going to include in our group's curatorial project. This collaborative project was the efforts of six of us Helena Rubinstein Fellows in Museum Studies. The show, Frank O'Hara, A Poet Among Painters went on view at the Whitney Museum in the early spring of 1974. This was my first exposure to the school of New York painters and poets, and it left me wanting to know more and anxious to meet more artists and writers.

Sweden was typical of Hartigan's forays into the painting life: her pictures were landscapes or landscape-inspired, like Matisse: rich and absorbed by patches and blocks of color animated by a continuous and sinuous line often in black. Abstraction was not Hartigan's only means of painting. She pushed herself and her limits and dug deep into herself to break beyond what she knew to open her paintings to what visual art might be. She was not in search of a signature style but in search of that which would express her ideas at a particular moment and time. From the start she made reference to nature; later, she included the figure and created large tableaux in which paint and figure merge, where paint is the figure and the figure is an explosion of paint, color, and energy.

As expressionist painting gave way to other contemporary styles of the day, she painted still lifes and created mythological landscapes and exotic gardens. These are akin to Malcolm Morley's invented and inventive pictures of tigers and parrots and the tropical and Mediterranean islands he visited in the late 1970s and 80s. Similarly, Hartigan's growing body of work shimmers with the same powerful color as the robust and energized landscape-inspired high abstractions de Kooning painted in the same decade. And like her friend Philip Guston, she repurposed figurative painting, though unlike Guston, she was not included in the flood of exhibitions and magazine articles devoted to the new figuration that came to attention across the US throughout the 80s.

Hartigan's subjects included many drawn from popular culture and life in the city, storefronts and shop signs, vessels and shoes, yet she was no advocate of Pop art. Hartigan sought to translate the everyday through paint, through composition and color, and not just by replicating methods of reproduction used in magazines or newspapers. The photograph served her as a tool for inspiration, not an element to be used in her art; painting, she has been quoted as saying, must have content and emotion.

Emotion is evident throughout the decades of paintings that follow. It is there in the thick, chromatic, tangle of jungle vines and animals, the images of lords and ladies, and the cornucopia of real and imagined signs, symbols and figures that populate her world: dogs, clocks, jewelry, oranges, and ancient statuary. Autumn Shop Window (1972), in the Baltimore museum of Art, is one such picture. Through the window, we glance at a cluttered display of fruits and vegetables in the foreground, kitchen utensils and price tags in the middle ground and, in the background, a few larger, indefinable forms and the reflections of colors and lights from the street behind all bathed in the late afternoon sun of a fall day. Hartigan holds us here, caught by the curious content before our eyes and held by a warm almost fragrant color that permeates the view and seeps into our minds.

Sensuous and seductive, romantic and poetic, Hartigain kept these ideals alive in her work despite a life of struggle with alcohol, an attempted suicide, a bad hip, and the loss of her husband, the love of her life. The battles within never seem to appear directly on her canvases. The world of painting is not immune to these internal dramas and psychological struggles but, for Hartigan, the field of painting was not a battleground. Instead she saw herself as" an aristocrat as far as painting is concerned; I believe in beautiful drawing, in elegance, in luminous color and light." And she could add somewhat sarcastically: "I don't mind being miserable so long I am painting well."

Over time she evolved more and more as a monumental figurative painter, opening up to a vast array of subjects and topics including contemporary characters, religious and historic figures, and literary sources. The scale of her earlier Abstract Expressionist paintings, which were in keeping with the idea of a painting as a field of action, gave way to a scale that could express the inherit grandeur of her subjects and the radiance of the color and light in which she portrayed them. Style and technique became means by which to create grand tableaux in the tradition of 18th and 19th century painting. These paintings are drenched in color, the paint stained and dripped into place; characters and figures are drawn as bold black outlines and the entire field appears deceivingly simple in its outward appearance, echoing the ideal of Matisse, her earliest mentor, in his wish to "create an art which is filled with balance, purity and calmness."

The last two decades of Hartigan's life saw the evolution of these grand pictures and large scale works on paper. She looked to history as an important and seemingly endless source of ideas and inspirations from St. George and the Dragon to Bosch's Womenwhile at the same time creating her own history: a history that is unique, imaginative, and entirely of her own making.




Michael Klein is an art dealer and curator in New York City.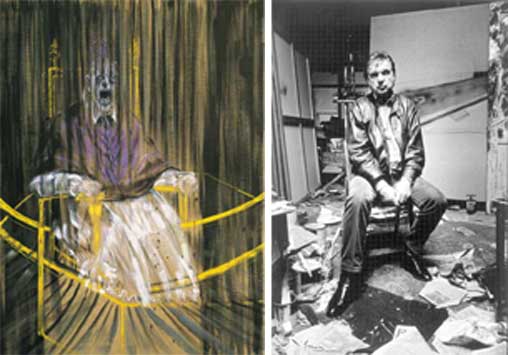 From left: Francis Bacon, Study after Velázquez's Portrait of Pope Innocent X (1953), courtsy of the Nathan Emory Coffin Collection of the Des Moines Arts Center; Bruce Bernard, Francis Bacon Seated in his Studio (1984), © Estate of Bruce Bernard.


Francis Bacon:
A Portrait of the Artist

by Anna Leung



Really I think of myself as a maker of images. The image matters more than the beauty of the paint… I suppose I'm lucky in that images just drop in as if they were handed down to me…. I always think of myself not so much as a painter but as medium for accident and chance.
&nbsp&nbsp&nbsp&nbsp&nbsp&nbsp&nbsp&nbsp&nbsp&nbsp&nbsp&nbsp&nbsp&nbsp&nbsp&nbsp&nbsp&nbsp&nbsp&nbsp&nbsp&nbsp&nbsp&nbsp&nbsp&nbsp&nbsp&nbsp&nbsp&nbsp&nbsp &nbsp&nbsp&nbsp&nbsp&nbsp&nbsp&nbsp&nbsp&nbsp&nbsp&nbsp&nbsp&nbsp&nbsp&nbsp&nbsp&nbsp &nbsp&nbsp&nbsp&nbsp&nbsp&nbsp&nbsp&nbsp --Francis Bacon


Like many great artists Bacon was the prime author of his own image and this makes this statement both true and false. Incontrovertibly chance and accident played a major part in the image of the artist as host to primitive impulses. This exhibition both confirms and contradicts this premise. However, the revelation at the Tate of his collection of mostly lens based material, historical, personal and commissioned photographs, film clips, reproductions of great paintings (Michelangelo, Velazquez, Rembrandt, Van Gogh, Soutine and Ingres) and illustrations from medical treatises which were discovered in his studio after this death, offers us a new way to approach Bacon. Much of this photographic evidence had been kept secret together with his sketches - he always reiterated the mantra that he never made preparatory drawings since such a practice would have contravened his insistence on the spontaneous aspect of his work and his voluntary abdication to the forces of chance. Chance does figure in the making of his paintings but it is based on a recognition of random juxtapositions to which the purposeful disorder of his studio no doubt contributed. For his studio functioned as a repository of all that had ever excited his eye, which, inter-dispersed with other images, provoked a new vision. It is this interplay between order and disorder, which operates on many different levels, both thematic and stylistic, that I'll be concentrating on.

Control and the loss of control play a critical part in Bacon's paintings and in his own interpretation of his own powers. The impact of his work hinges on a dialectic between order and chaos, just as it does on the interplay between drawing and colour. His bypassing of drawing as a reflective activity can be attributed to the fact that he was a self taught artist and therefore avoided what he would probably have seen as academic straightjacketing through an acquisition of skills based on a rational and objective understanding of the physical structure of things as they are, rather than how we perceive them to be. As it was, Bacon tended to depreciate the contribution of whatever informal art training he may have picked up. In London, he first made a name for himself not as a fine artist but in the decorative arts by designing tubular furniture and carpets that took their cue from Picasso and Leger. He destroyed many of his early works and with them the evidence of the most formative influences that may have determined his Three Studies at the Base of a Crucifixion (1944) which, with the help of Graham Sutherland, was first exhibited at the Lefevre Gallery in London in the following year.

It was assumed that Bacon did not regard himself as a painter prior to this date, but in his early twenties he had already come into the sphere of an Australian painter, Roy de Maistre, who helped him master oil painting. De Maistre's influence was not restricted to technical matters. It went far deeper. Bacon was also receptive to his particular world view that was attendant on the fact that de Maistre, who had changed his name from Mestre to Maistre, based his own artistic self image on the rightist political theorist Joseph de Maistre (1753-1821) whose views were motivated by a total rejection of the principles underpinning the French revolution, including Enlightenment ideals of progress. Where thinkers of the Enlightenment saw reason as the fundamental agent of human development, de Maistre saw the biblical Fall from Grace as fundamental to an understanding of human beings as flawed and essentially irrational creatures caught up in a life and death struggle for existence. Violence and cruelty were therefore endemic in human society, with the forces of the instincts invariably victorious over those of reason.

Baudelaire, who figured in Bacon's reading and who probably furnished him with an aesthetic based on the relationship between beauty and sin, owed much to de Maistre. And from Baudelaire it is not difficult to make a link with George Bataille, the renegade Surrealist, who glorified violence and human sacrifice in the 1930's. His magazine Documents which came out between 1929 and 1930, and which Bacon certainly had copies of, featured Eli Lotar's photographs of slaughter houses as well as Boiffard's close ups of open mouths which inspired Bataille to comment on "the terror and the atrocious suffering (that) make the mouth the organ of a heart rending scream," a favoured motif in Bacon's iconography. Bataille, denouncing the hypocrisy of over sophisticated western man, argued that there was a strong correlation between human sacrifice, religion and butchery and proposed a materialist philosophy of "baseness" in which beauty was inextricably linked with death and with what Bacon would call "the brutality of fact." Fundamental to this view was the absence of any residual hope; not form but formlessness, i.e. the undoing of form, operates in this world emptied of God. It is for this reason that Bacon's paintings have often been categorised as existential. And it is because of his visceral understanding of the transience of the moment and of the fugitive and contingent nature of existence that Bacon stressed the importance of sensation. For Bacon, reality meant not mundane reality but the fusing of extreme pain and pleasure that we usually all too wilfully ignore.

It is not difficult to explain why such a philosophy would have attracted Bacon. All that is needed is a rudimentary understanding of his formative years, and Bacon was forthcoming in this matter, furnishing us with an account of a childhood characterised by violence, neglect and rejection. His relations with his parents – of aristocratic and military Anglo-Irish descent living in Dublin during the times of the uprisings - were remote and lacking in affection; he suggests he may have been abused as a child. Suffering from asthma he was unable to emulate his father's active life as a horse dealer and trainer but implies that he was often thrashed by his father's grooms. This period ends when, discovered dressing in the mother's underwear, he was expelled from his home at the age of sixteen and made the crossing to London. By this time he already knew he was homosexual.

It has been suggested that Bacon reconstructed this account of a traumatised childhood to authenticate the character of his art that forces on the viewer an enactment of continuous trauma. At the same time he would not have wanted to encourage a totally biographical interpretation of his paintings. In fact, he positively discouraged it for it would have spelled out an illustrative agenda that he was always eager to deny. Bacon is modernist in his opposition to narrative, anecdotal and literary elements, though he feels free to borrow ideas from writers, notably Aeschylus and T.S. Eliot. The figural, though, does not necessarily imply a figurative or narrative element. Indeed where Bacon gives us anecdotal clues as in his triptych Crucifixion of 1965 in which autobiographical and historical sources seem conflated in the swastika on the arm of the assailant in the right wing of the triptych, he is all too ready to explain it formalistically as the need for a red patch on this particular area of the painting.

Another conundrum, this time regarding the presentation of his paintings, is that, while claiming that his aim as a painter was to directly assault the viewer's nervous system, Bacon made the unusual stipulation that his oil paintings be framed under glass. This means that any direct vision is interrupted by a play of reflections that effectively distance the viewer from the image. How should we interpret this? It could imply that, like the isolated figures in his paintings, which are often enclosed in some cage like structure, we too are alone in the world being forced to look voyeuristically at this image isolated in an anonymous space. In a sense we become the perpetrators, the aiders and abetters of whatever ordeal is being re-enacted, an ordeal that seems suspended in time as well as in space since there is no resolution in the future. The glass denotes distance but it could also force the viewer to concentrate on the image by rejecting all intervening reflections. According to Sartrean existentialist theory, the viewer would then take on the role of perpetrator and victimiser whose gaze reduces the other to mere objecthood. This interpretation depends on whether we accept the original premise. Or does it? Does the urgency of Bacon's vision force the issue, somehow making the image an object of suffering, a repository of "pity for the flesh" so that the viewer be made to move beyond the polarities of disgust and attraction?

Many Popes and One Nurse.

Bacon is a painter par excellence of the figure and uses it to extract from his paintings a maximum of dramatic effect. The depiction of the body is central. It is the locus of events and for this reason, and in order to avoid narrative, context is minimal. As the site of action the body is characterised as assaulted by an excess of sensations and by a loss of boundaries. Yet Bacon insists on boundaries. Circles, ellipses, rectilinear frames isolate the figure or parts of the figure. Bacon defensively argues his case by insisting that these compositional motifs foil any attempt to allow a story telling element to detract from the basic objective of recreating a new pictorial reality. Illustration was for Bacon merely second hand imitation of reality. The cage motif therefore functions in different scenarios as bed, chair, stage, or podium, creating a picture within a picture but always making us focus on the isolated protagonist/s. The figure inhabits an anonymous interior space, a hotel room, a boardroom, a bathroom or railway carriage. Exceptionally a natural habitat is evoked but even this is framed or circumscribed as in Figures in a Landscape (1956-57).

The cage construction first appeared in 1949 in Study for Portrait and Bacon continued to use it in his series based on Velázquez's Portrait of Pope Innocent X (1650). Bacon portrays the Pope, a church pontiff in whom the greatest Christian authority has been vested, as divested of all authority, his open mouth becoming a metaphor not only of pain but of greed and terror. (The open mouth had in fact already figured in Head 11 [1949]. Here the face has all but disappeared leaving only the mouth and its teeth visible against grey curtains into which a safety pin has been inserted, the safety pin being one of the ways Bacon collated interesting images, folding them to create different shapes which often explain the distortions we see in his depictions of friends and lovers.) The provenance of the Pope's scream and of the glasses, that in some paintings seem to be on the point of slipping off his nose, finally emerges in Bacon's Study for the Nurse from the Battleship Potemkin (1957). This is an unusual subject for Bacon. Eisenstein's original nurse figure, whose charge is heading for a certain death as the pram careers down the Odessa steps, has been transformed into another persona, a full length naked but sexually ambiguous figure, who like the Pope is trapped in a cage and is silently screaming out her horror.

Photographs and Portraits

It is significant that Bacon never actually saw the original Velazquez portrait of Pope Innocent X but studied it from a reproduction. This touches on Bacon's habit of using photography as source material, which is partly to do with his lack of art school training. For despite his fascination with the figure Bacon had very seldom worked from the life model and found it inhibiting when he did. The same logic applied even more to portraiture in which the degree of distortion he was likely to impose on his subjects, who were usually confined to the inner circle of his intimate friends and lovers, might have caused too much distress. Bacon's habit of copying from photographic material had a direct impact on his practice especially in terms of the quality and the expression that he gives to his portraits. Bacon's portraits are unlike any others for they do not describe volumetric form in space, which is what we tend to expect from traditional portraiture. Instead they convey an ambiguity of movement, be it in the turning of an eye or of the head that is essentially filmic. Heads are even sliced in two breaking up the symmetry we associate with the sovereignty and integrity of the self. Often one half of the face seems to be absorbed by the darkness of the background or individual features are painfully distorted by what at first appears to be an accidental smear or smudge of paint.

Yet it is precisely through this use of distortion that Bacon captures something acutely personal in his portraits of friends many of which were painted from memory. He is able to seize on some idiosyncratic characteristic through a smear or flurry of paint and still retain something that speaks of resemblance and appears to have been wrested from the inside of his subject. Bacon seemed to have an instinctive understanding of the different personae that inhabit one individual and, like a surgeon, was able unperturbed to dissect the soul, laying bare the invisible forces that form, alter or violate the face. This goes far beyond resemblance and seems to capture what it is that makes each individual alive. An integral aspect of this is an intimation of mortality that is caught in the anxious set of a mouth or in the flicker of an eyelid.

Flesh and Meat

The body fares no better in Bacon's work but is often so severely assaulted pictorially that it is virtually impossible to make out what exactly is happening to it, and this play between revelation and concealment that forces the viewer as voyeur to reconstruct this enactment of reality. Subjected to a process of violent dehumanisation, that suggests that it is no more than mutilated flesh, the human body is transformed into a horrific focal point of pain. It is this vision that totally shatters the classical view of human consciousness as defined by ego boundaries, which constitutes the driving force behind much of his need to paint. Bacon often stated that he viewed human beings as no more than animals dominated by bestial impulses and tormented by the consciousness of their own mortality.

From an emotional and psychological perspective Bacon may have rationalised that, given the irremediable nature of the human condition, homosexuality, which was still regarded as a crime in conventional society, and especially in Ireland would have been seen as an abomination, was not only legitimate but provided him with the possibility of exploring areas outside the bounds of bourgeois morality. The dangerous allure of sexual adventures, including sadomasochistic relationships, remained constant throughout his long life. Sexual desire then represents rupture as well as rapture. Muybridge's sequential studies of athletes and wrestlers gave Bacon a means of configuring this ambiguity whereby love-making represents a savage union in which the protagonists are threatened by a fragmentation and disintegration of the self. It is difficult not to let these biographical elements colour our understanding of his pictures. We know that Bacon considered this illustrative aspect a danger to his painting practice, and this position would have made perfect sense during the sixties when Abstract Expressionism was at its height. But its difficult, if not impossible, to sever the links between Bacon the man and Bacon the artist especially in relation to his triptychs, the best in memory of his lover George Dyer who committed suicide on the eve of Bacon's retrospective at the Grand Palais in Paris in 1971. Indeed, it could be argued that by accepting rather than negating narrative despite himself, Bacon embodies both the modernist and post-modernist tendencies of the later part of the twentieth century.

The Crucifixion and the Triptych

As an atheist Bacon saw nothing transcendental or spiritual in the Crucifixion. For him it represented butchery and extreme mutilation; it epitomised a degree of violence visited upon the human body that transmutes it into mere flesh, a piece of meat or a dead carcass. The motif of the crucifixion exerted a fascination on Bacon and the triptych with its three panels comes closest to his idea of producing a succession of images that are filmic. Three Studies for a Crucifixion (1962) was the first time Bacon actually depicted a Crucifixion but it is significant that the Christ-like figure no longer occupies the central panel but is relocated to the right hand panel, where, carcass-like, it slips down the vertical format, its skull with open screaming mouth revealed within the mass of flesh.

The central panel reveals a blood spattered body writhing on a circular bed. As an artist, Bacon was attracted by the brilliance of the red and pink coloration of meat but it was only in the sixties that his depiction of flesh became more visceral with his use of vibrant pinks and reds which, as in this instance, he had previously reserved for backgrounds. As in most of Bacon's paintings the flat, almost decorative, even delicate, colour field that makes up the background stands out in stark contrast to the raw painterly quality of the figure. This also applies to the depiction of the shadow that Bacon at times invests with greater corporeality than the actual figure, which often seems on the point of dissolution. In fact, these strange, ectoplasmic shapes hardly seem to function as shadows, especially as they are not cast by an external light source but seem more to be emanations of some life force. But do these emanations draw power from the figure or. on the contrary, in some way protect them?

Two of the very important triptychs that act as memorials to George Dyer feature shadows. In Triptych August 1972 the entwined bodies in the central panel have a curious mauve pink "shadow" attached to them, while in the two side panels the figure of a seated George Dyer is attached to a dirty pinkish shadow that is either draining him of his life force or pouring it back into him. In Triptych, May-June 1973 Bacon shows the dying Dyer vomiting into a basin in one panel and slumped in a foetal position on the toilet in the other. The central panel seems to foresee the protagonist's eventual death with a strange bat-like shadow that almost obliterates him as he stands at the doorway of his room. It is one of Bacon's most moving pictures.

Chance

Bacon has intimated that he is a painter who works in series: the series based on Velazquez's portrait of Pope Innocent X, the series of business men in dark suits against dark blue striated backgrounds that seems so appropriately to take the measure of the mood of alienation in the fifties, the animal pictures, crucifixions and triptych, memorial paintings to lost lovers. This in itself seems to suggest not chance but a relatively ordered progression. Yet Bacon insisted that his paintings were the result of chance: "You know in my case all painting – and the older I get the more it becomes so – is accident." One of the most characteristic features of Bacon's chance scenarios is the white blotch created when he throws thick white paint at the completed image on the canvas. This sounds more like calculated risk than Surrealist unconscious forces at work in which case the act of throwing becomes a willed, consciously considered act.

A more comprehensive understanding of Bacon's use of chance comes if we relate it to the stimulus that he derived from all the accidental tears, creases, folds and spots of paint to which the photographs which littered his studio and got used while painting were inevitably subjected. There is, too, Bacon's stand as a painter for whom the materiality of paint, its viscosity and its ability to be reworked and manhandled were crucial. Accidents could suggest new departures, introducing both spatial and temporal ambiguity into the working out of an image. But it is important to differentiate between surrealist-type automatism and Bacon's calculated use of chance. Chance for Bacon does not unlock Miro's dream world or give rise to Magritte's philosophical paradoxes. He insists on the utter physicality of the human condition, the unyielding world of brute fact. Bacon wanted both order and chance but needed a modicum of order to allow chance to operate: "I want a very ordered image, but I want it to come about through chance." But behind all of this was his belief that man "… now realises that he is an accident, that he is a completely futile human being, that he has to play out the game without reason." As a painter playing out the game, Bacon must have drawn on a Nietzschean reserve of strength and resolution to endure despite his basic and lasting pessimism.

Text © Anna Leung, 2008.

The exhibition Francis Bacon ran from 11 September 2008 - 4 January 2009 at the Tate Britain in London, UK, where Anna leung saw it. It will travel to the Museo Nacional del Prado in Madrid (3 February - 18 April, 2009) and the Metroplitan Museum of Art in New York (18 May - 18 August 2009).
Anna Leung is a London-based artist and educator now semi-retired from teaching at Birkbeck College but taking occasional informal groups to current art exhibitions.