Entrance to Girl with a Pearl Earring: Dutch Paintings from the Mauritshuis at the High Museum of Art, Atlanta. Photo: Mike Jensen.
Her Left Cheek
By Deanna Sirlin
From 23 June until 29 September of this year, the High Museum of Art in Atlanta is hosting the exhibition Girl With A Pearl Earring: Dutch Paintings from the Mauritshuis. This is an eminently worthwhile exhibition that places on view numerous master works hard to see if one does not have reason to visit The Hague. But the High's relentless emphasis in its marketing on the Girl With A Pearl hit a nerve.
Do not get me wrong: Johannes Vermeer was a great artist, one whose work I studied at great length both as a student and later as an artist. Whenever I am in a city that has a Vermeer I find myself standing in front of the work. He was a great painter, set apart by the clarity of his light and his pared down compositions. The paintings, which are both allegorical and imaginative, are distilled to essentials. The quality of the paint and the brushstrokes is stunning; it is lush and clearly articulates the textures of the textiles that Vermeer wants us to see and feel as if we where beside him as he works.
Girl with a Pearl Earring is without question one of his great works. It is so modern, with no background except for the perfect pitch of his color both behind the figure and in the silks wrapped around her in blue and yellow. I got to see this beautiful Vermeer in Atlanta. So what is my problem?
I know museums need to bring people into their galleries. And their sponsors want to see numbers. So how do you bring them in? Marketing. However, I think the way this exhibition was marketed went overboard and changed the perception of the exhibition. For example, some of the publicity described Girl With a Pearl as "one of the seven wonders of the art world" while lumping all of the other works in the show, including those by Rembrandt and Frans Hals, together as "34 other Dutch masterpieces." Always recognized as a masterpiece, Girl With A Pearl Earring has become even more famous in recent years, but for reasons having little to do with its artistic merit and more to do with the popular novel by Tracy Chevalier (featured by the museum's book club) and the film starring Scarlett Johansson and Colin Firth (screened at the museum). By leaping on this ready-made bandwagon, the museum over-emphasized one work at the expense of many other important paintings the public should have been encouraged to appreciate. And so much of the campaign was just too cute: the museum offered two bagel breakfasts under the rubric of "Vermeer with a Schmear," and there is a place on its website where you can upload your picture—or your pet's (more than one cat here)—to see what you would look like wearing the Girl's famous headdress. Submitted images can be saved to an online gallery.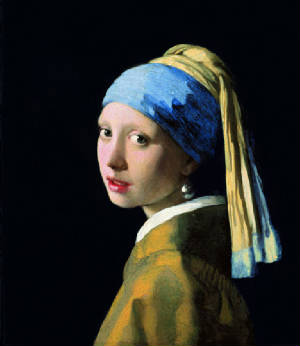 Johannes Vermeer, Girl with a Pearl Earring, c. 1665.
I am now finished ranting and raving about the museum's marketing effort. This is an amazing collection of works lent by the Mauritshaus while their galleries are being renovated. First, there are the four Rembrandts. Next, there is the masterpiece by Rembrandt's student, Carel Fabritius, The Goldfinch, 1654. Fabritius had a short life; he was killed an explosion in 1654 at the age of 32. This small painting in oil on panel (13.25 x 9 inches) is a bit of poetry. The small bird sits on his perch; in a moment he will take flight. Fabritius captures this moment through his mastery of brushstroke, paint and light.
I had not previously heard of Govert Flinck (1615 – 1660) whose Girl by a High Chair of 1640 is flanked by two magnificent portraits by Frans Hals with their extremely beautiful tonal range of black, white, and grays that articulate the figures' coats, ruffs, gloves and hat with open brushwork. The paint has such a stunning liquidity and authentic touch combined with this palette that I am weak in the knees from looking at it.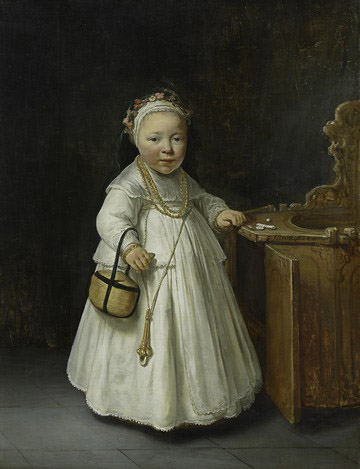 Govert Flinck, Girl by a High Chair, 1640.
The Girl by a High Chair is a largish portrait of a baby, maybe two or three years old, holding on to her high chair in order to be able to stand. This painting is also a symphony of grays, but it is in the fullness of the baby's face, particularly her left cheek that I find an amazing passage of painting. It surprises me that reproductions of this work convey none of the presence or fullness of life that the painting itself exudes. It is important to see art works in the flesh, so to speak, whether this means traveling or viewing borrowed works at your local museums. The physicality and scale of works of art are part of their meaning; the work in front of you communicates most powerfully.
Vermeer in town is a great thing, but maybe we don't need the schmear. A marketing campaign that overshadows a curatorial effort by emphasizing one work to the point that people believe it's not worth their while to go to the museum just to see one painting does not do this extraordinary exhibition justice. Museums need to bring us great works of art, those we know and those we do not. It shouldn't matter whether they have had books written about them or whether those books were made into movies. They just need to be accessible to us and I promise we will look and pay attention and fill our eyes, inform our minds and, if we are lucky, nourish our spirits.
Exhibitions of works from the Mauritshuis in The Hague are circling the globe:
Tokyo Metropolitan Art Museum, Japan
Masterpieces from the Royal Picture Gallery Mauritshuis
30 June 2012–17 September 2012
Kobe City Museum, Japan
Masterpieces from the Royal Picture Gallery Mauritshuis
29 September 2012 – 6 January 2013
de Young Museum (Fine Arts Museums of San Francisco)
Girl with a Pearl Earring: Dutch Paintings from the Mauritshuis
26 January 2013 – 2 June 2013
High Museum of Art, Atlanta
Girl with a Pearl Earring: Dutch Paintings from the Mauritshuis
22 June 2013 – 29 September 2013
The Frick Collection, New York
Vermeer, Rembrandt, and Hals: Masterpieces of Dutch Painting from the Mauritshuis
22 October 2013 – 19 January 2014
Palazzo Fava, Bologna, Italy
Girl with a Pearl Earring - The Myth of the Golden Age
8 February 2014 – 25 May 2014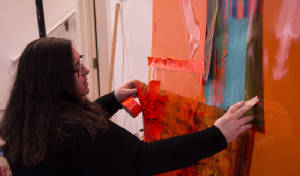 Deanna Sirlin is an artist who has been passionate about looking at art her entire life.