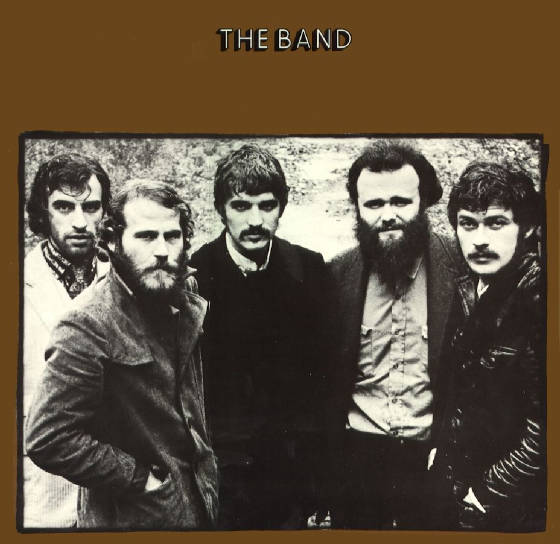 The Band, The Band, Capitol Records, 1969 (album cover).
Listen to an excerpt from "Rocking Chair"
Although the counterculture's interest in country life is occasionally expressed in songs such as "Going Up the Country" by Canned Heat, "Country Air" by the Beach Boys, and Jefferson Airplane's "The Farm," no rock group of the era embodied rural Southern culture better than The Band, Dylan's once and future cohort. The Band was country, but not Nashville—their instrumentation, which featured fiddle and mandolin in prominent roles, evoked bluegrass and old-time string bands more than Nashville Cats. They presented themselves as plain and homespun, bearded and modestly dressed. In a 1976 essay on the group in the journal Ethnomusicology, David Emblidge describes their vocal style:
Their voices often strain, nasally, towards the upper reaches of their ranges, yet they never exceed a comfortable level of volume. This pinched and at times incisive tone is characteristic of Anglo-American folk singing. . . . Their harmony frequently contains a deliberate "space"; this is achieved by using combinations of a highly pitched voice (at times almost a falsetto) with a much lower alto or bass.
The result is much closer the "high lonesome sound" attributed to bluegrass than to the styles of singing associated with rock.
As Emblidge also suggests, The Band's version of the pastoral was "unidealized." The world depicted in the group's songs is a largely 19th century version of America populated by mountain-dwelling hillbillies, farmers and laborers, petty criminals and con men, medicine shows, merchant seamen, Southerners pitted brother against brother, and old geezers rocking in chairs out on the porch.
There is plenty of good humor in the ill-fated romances they recount; yet they also treat the pain, suffering, loneliness and hard work inherent in rural life. They recognize the complexities of country life in the same manner as do those who view the city as a labyrinth of frustration. In view of their attention to the dark side of rural life, their references to the salving beauties of nature become all the more poignant.
From a cultural perspective, late-60s country rock was something of an enigma because rock and country seemed to represent opposite worldviews. Especially during the Vietnam War the constituencies represented respectively by rock and country were at loggerheads. Whereas rock was ostensibly radical, progressive, anti-war, pro-hippie, pro-communal living, and so on, country was ostensibly conservative, traditional, pro-war, anti-hippie, pro traditional family, and so on. The distance between the two cultures was dramatized by Merle Haggard, one of the Bakersfield artists, in his notorious1969 song "Okie from Muskogee," the opening verse of which is:
We don't smoke marijuana in Muskogee;
We don't take our trips on LSD
We don't burn our draft cards down on Main Street;
We like livin' right, and bein' free.
This song produced a number of responses from rock artists, including "Hippie from Olema #5," a direct 1971 parody of Haggard's song by the Youngbloods, and Big Brother and the Holding Company's lively, good-humored "I'll Change Your Flat Tire, Merle" (1970; later recorded by Pure Prairie League). This song provides testimony to rock artists' admiration for country music. The scenario in "I'll Change Your Flat Tire, Merle" is precisely that—the hippie-identified singer comes upon "the greatest country singer alive" stranded by the side of the road in his "fancy car." The singer provides road service even as he chides Haggard for having seemingly forgotten his "adventurous youth" and settling for the well-heeled middle-class respectability his success has brought him.

Listen to an excerpt from "I'll Change Your Flat Tire, Merle":
Although Big Brother's rejoinder is pointed, Haggard's intentions with "Okie" have never been clear. People on both sides perceived the song as an attack on hippie culture and values, but there is something tongue-in-cheek in its depiction of good country folk. Haggard has sometimes said that the song was meant to be a satirical depiction of such people while on other occasions he's said he intended it to reflect the perspective of someone like his own father. It is clear, in any case, that it would be a mistake to assume that the song directly reflected Haggard's own feelings, especially in light of his recently having come out in favor of the legalization of marijuana (and against the prosecution of his friend Willie Nelson) and apparently endorsing the use of a particular strain in the song "Laugh It Off." It is also the case that rock acts like the Grateful Dead and the Beach Boys took a certain delight in performing "Okie" for hippie audiences, who often sang along, at least with the chorus ("I am just an Okie from Muskogee"). It is therefore possible that the rock/country conflict played out in these songs and onstage was more akin to a family squabble similar to the later conflict between Neil Young and Lynyrd Skynyrd over the song "Southern Man" than to the full-fledged culture war, and worse, that sometimes erupted between the same communities.
Listen to the Beach Boys and the Grateful Dead perform "Okie from Muskogee" at the Fillmore East in 1971:
Some of these harder feelings are expressed in The Byrds' "Drug Store Truck Driving Man" (1969) written in response to a contretemps the group experienced in Nashville while performing at the Grand Ole Opry. Following an onstage debacle, the group's Roger McGuinn had an equally unpleasant on-air exchange with Ralph Emery, an important Nashville disc jockey. The song has a drawling country sound as the protagonist levels the same charge against an unnamed DJ as Big Brother directed at Haggard: having become part of the establishment and having lost touch with the true spirit of country music ("He lives in a house on the hill"; "he sure does think different from the records he plays"). As if this weren't bad enough, "he don't like the young folks" (read hippies) and is "a head of the Ku Klux Klan." But the song becomes poignant in its last lines —"I'm an all night musician in a rock 'n' roll band/And why he don't like me, I can't understand"—which suggest both a desire on the part of the rock musician to be accepted by the country establishment, which is what the Byrds failed to achieve at the Opry, and the belief that there is no intrinsic divide between rock and country as music. Only those who misunderstand the underlying rebellious spirit of country music perceive it as antithetical to rock.
Listen to an excerpt from "Drug Store Truck Driving Man"
American groups were not the only ones touched by country at the end of the 1960s. The Rolling Stones' Keith Richards met Gram Parsons, one of the architects of both the Byrds' and the Flying Burrito Brothers' country sounds, in 1968, and developed an appreciation for country music through this friendship that influenced his song writing. "Dead Flowers," "Factory Girl," "Wild Horses," "Sweet Virginia" and "Let It Bleed" are among the country-flavored songs the Stones started recording following the all-out psychedelic experimentation of Their Satanic Majesties Request. Although it is generally conceded that Keith Richards and Mick Jagger write capably in the country idiom, it is also frequently observed that Jagger does not seem at home singing these songs and often resorts to using stereotyped "American" or "Southern" diction so exaggerated as to be close to parody. Jagger has acknowledged this in an interview: "I love country music, but I find it very hard to take it seriously. I also think a lot of country music is sung with the tongue in cheek, so I do it tongue-in-cheek."
If the Stones engaged directly, if somewhat problematically, with country music, the Beatles' relationship to country is both more and less direct. It is more so in that, in 1965, the Beatles had recorded "Act Naturally," a song first recorded by Bakersfield stalwart Buck Owens and the Buckaroos. But it is less so in the sense that the Beatles as a group did not write songs in the country vein. The song that comes closest is probably "The Ballad of John and Yoko," released in 1969, which shows John Lennon and Paul McCartney flirting with country around the same time that so many other rock artists were. Whereas the subject matter of the Stones' various country songs more or less fits the genre, the tale of John Lennon and Yoko Ono's bohemian exploits could not be further from the kinds of stories associated with country ballads.
Nevertheless, the Beatles in 1969 were engaged in a return to a simpler, rootsier, more band-oriented style after producing music that depended heavily on studio production and the use of session musicians. This direction is already evident on parts of the White Album (the song "Revolution," for instance), but is especially apparent in the singles the Beatles released in 1968 and 1969 ("Hey Jude," "Get Back," "Don't Let Me Down") and the famous impromptu concert they performed on the roof of their offices in Savile Row at the end of January, 1969. Mark Lewisohn, author of The Beatles Recording Sessions, describes the style of these recordings as "audio verité" to suggest the way the Beatles sought a simpler, band-based sound. The Beatles at this point had been considering a return to live performance (after not playing any concerts since the summer of 1966) and presented themselves as a working rock band. In fact, the dressed-down, bearded Beatles who appeared on the rooftop bore a certain resemblance to The Band. This does not betoken engagement with country music per se, but it does show that the Beatles shared the desire to return to more basic rock sound following the psychedelic era that led other groups toward country music.
It is in the early solo work McCartney, George Harrison, and Ringo Starr produced after the break-up of the Beatles that their most substantive engagement with country music is to be found. McCartney's songs "Man We Was Lonely" (from McCartney) and "Heart of the Country" (from Ram) are examples. Harrison had always been a fan of country music and several songs on All Things Must Pass reflect this enthusiasm, notably "If Not For You" (written by Dylan whose version appears on New Morning), "Behind That Locked Door," "Apple Scruffs" and "I Live for You" (which did not make it onto the original album but appears on the 2001 reissue). Harrison's keening slide guitar and the presence of Pete Drake (who had also played on Dylan's Nashville Skyline) on pedal steel are important sonic connections to country music.
Listen to an excerpt from "If Not For You":
Whereas McCartney, and especially Harrison, included country-flavored songs on albums that covered a range of musical styles, Ringo Starr's second solo album, Beaucoups of Blues (1970) is a straight country record. Starr met Drake while both were working on All Things Must Pass and Drake offered to set Starr up with some newly written songs and recording sessions in Nashville with some of the top studio musicians there. The result is a set of country tunes mostly of the sad, tears-in-my-beer variety. Although the album received little critical acclaim and puzzled Beatles fans when it first appeared, it is clear in retrospect that for a musician associated with as important a rock group as the Beatles to choose to do a pure country album in 1970 was a highly significant and timely gesture.
1970 may well have been a pause point in the history of rock music, but it was not a pause in creative activity. Rather, many musicians took a pause for reflection at a time when it was becoming clear that the Sixties were over and rock culture was changing radically and inexorably. For many, this reflection entailed a return to the wellsprings of rock 'n' roll to seek new directions and renewed inspiration, and country music clearly was one of those wellsprings.
This interest in country music was not confined to rock's "central core." More on the periphery, a group like Commander Cody and His Lost Planet Airmen brought tunes replete with fiddle and pedal steel to hippie audiences everywhere. The Commander and his gang also waded into rockabilly one of the rivulets that connects rock 'n' roll with the country stream, as did the Flamin' Groovies and others. This story, however, is probably best told in relation to the more general reappraisal of the 1950s that surfaced in rock culture around 1969 and will be left for another day.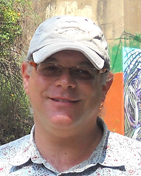 Philip Auslander is the Editor of The Art Section.