Born to Make Things Up...
or why I'll stop improvising only when they pry it from my cold dead sticks

by Klimchak





My career is based on an inability to be repetitive. This may seem paradoxical for a person trained as a percussionist but it's true. Virtually every performance I've ever given, be it a theater work, a dance composition or a concert, has some element of improvisation at its core. It doesn't matter if the music is performed live or recorded, there will always be at least some element of improvisation in there somewhere. In this article, I'll discuss some of the reasons why that's so.

First I should offer my definition of improvisation. Improvisation is the act of making music that is not pre-planned or pre-composed. There are varying degrees of improvisation ranging from, at one end, free improv, where your goal is to play ONLY things on your instrument that no one has ever played before to blues based jamming, where you have a sort of playbook of options and select one from column A, one from column B, etc., and fit them together within a pre-existing structure. There's a place for every kind of improv on the continuum from free to structured. Each takes a lot of skill and practice that aren't part of the non-improvising musician's life.

So here are two videos of recent performances that illustrate my definition of improvisation from free to structured.

The first, Waaayyy Too Much Cowbell, was made for this article. I set up a table, put some sticks on it (OK I put them in a cute little vase I remembered because I had just washed it). Then I took a suitcase full of cowbells and let improv be improv.

The second is a more structured sort of improv. It's a live recording of a performance of one of my solo pieces for Marimba Lumina (an electronic radio controlled marimba) titled The Indeterminate Pitch Tango from earlier this year. These pieces have a set group of sounds and manipulations programed into the Lumina along with a couple of musical ideas about how to use the sounds (some musical phrases, a general set of notes to start within, etc). A live performance of one of the pieces consists of my beginning to play with the preset idea and then developing it as the mood and the audience's reaction inspires me. In this performance, I decided spontaneously to add an improvised theremin solo, along with some foot pedals playing some vibraphone accompaniment.

At one level, every good performer learns to improvise. We've all seen it. Equipment breaks. Cues are dropped. Mistakes are made. Improvisation is the duct tape and spit that patches this all together and makes a seamless show for the audience. So I say I may as well capitalize on that and make improvisation a vital part of the show. Improv is like looking at things in your peripheral vision. You only see a blurry bit of the facts at the time. But the more improv one does, the better one gets at focusing on the edges.

Also, the pursuit of perfection is overrated. I've done non-improvised shows that are virtually perfect. So been there, done that. And the next night ... ohhh maybe I can do it again! At a certain level the pursuit of the perfect performance becomes a law of diminishing returns. A much more interesting approach to me has been to allow more improvisation into my sets.

The more improvisation I incorporate into my live performances the better I seem to appeal to audiences. There is something magical that happens between an audience and a live performer. There is a real interconnection where each one's reaction spurs the other on to greater heights. The musician plays, the audience reacts, the musician incorporates the audience's reaction and plays more, the audience reacts to the new playing and so on.... It resembles a really good conversation where each person is constantly reacting to the thoughts of the other.

The more comfortable the performer is with improvisation, the more integration there can be with the audience. After all, it's the player's skill at improvisation that's the essence of adapting the performance to the needs of the audience. Improv is a conversation. Composed music is a speech. Conversation often occurs beneath the words. It's an exchange of emotions and feelings. This is what engenders trust between audience and performer.

The trust force that binds me, as a performer, and my audience also allows me to perform at a higher level than would be possible without an audience. At one level I'm working without a net, taking chances without really knowing if they'll work or not. Every improvisor will fail at some point. As a matter of fact, most fail regularly. Personally, I always consider around a 50% success rate for the improvisation to be a really good performance. The other 50% isn't a total loss necessarily. It just doesn't result in a new discovery. There's no magic. That's the downside of improvising, a high failure rate, especially if I'm REALLY taking chances. But it's that successful 50%, that really makes the evening come alive. The successful improvisation is much better than the player could ever be with written music.

But, the trust of the audience provides another sort of net. When the performer can sense that the audience is going along, enjoying the risks that the performer is taking, the improvisor is ready to take greater risks. That comfort level allows the performer and audience to laugh off the failures and appreciate the successes. For me this creates an incredible rush and release that's positively addicting. I can't imagine ever giving up the improv.

But now, enough of this, I gotta go down to my studio and make stuff up!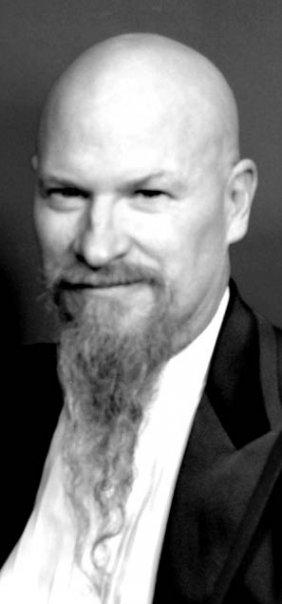 Klimchak is an Atlanta-based composer, performer, and multi-instrumentalist.
---
Amy Worthen in Venice. Photo: Rose Wood.
Two Lives/Two Cities
An Interview with Amy Worthen

by Deanna Sirlin





I first encountered Amy Worthen at my gate waiting to board a plane to go to Venice for the Biennale. I felt an immediate familiarity with this person but I could not place how or where we could have met. Days later, in Venice, we saw each other again at a party at the Guggenheim and our dialog started. Little did I know about Amy's work as both an artist and a curator, as well as how she divides her life between Des Moines, Iowa, and Venice. I think this is no small accomplishment, and so I interviewed Amy for TAS as I feel others who wear multiple hats in our respective worlds would be as interested as I am in how Amy manages all this. I am not sure she has given us her secrets but she has indeed allowed us a window into her life.--DS




Can you describe your two lives, the one in Venice and the one in Des Moines?

Sometimes, someone in Venice will ask me, "What is it like in Des Moines?", and sometimes, someone in Des Moines asks, "What is it like to live in Venice?" I respond with the same answer - You can't imagine. It is another world.

I have been a resident of Venice since 2004. For the past five years I have arranged my schedule so that I spend a full six months a year in Venice and a bit under six months in Des Moines. Approximately every two months, I go from one home and existence to the other. Sometimes I feel that I am living two completely different lives, but they are connected, and I love both of them.

I began coming to Venice regularly in 1989, when Matilde Dolcetti, director of the Scuola Internazionale di Grafica di Venezia (SIGV), a school of printmaking and graphic design, invited me to come to the school as a visiting artist. In subsequent years, I taught classes in burin engraving, drawing, and the history of prints there. My involvement with the SIGV connected me with the printmakers, book printers and bookbinders of Venice. Those artists became my core group of friends in Venice, and the SIGV has long been my base and point of reference.

We live near Campo San Giacomo de l'Orio, in the sestiere of Santa Croce. Our palazzo is visible in Jacopo de' Barbari's 1500 bird's eye view of Venice. In the Campo, during the day the elderly sit on the benches under the trees, the retired men stand and chat, and friends meet to drink coffee, wine, and spritz at the cafés. In the afternoon, babies toddle, kids rollerblade and kick soccer balls, and parents chat. On Wednesday evenings, I often attend Incontri, a weekly gathering for artists only, organized by the painter Maria Morganti. We meet at the Fondazione Bevilacqua LaMasa on Rio San Barnaba. Artists present talks on their work to other artists.

We have a boat, and my husband has become really good at rowing, Venetian-style. He goes out rowing almost every evening through the year, even around midnight. He rows through the canals late at night because there is almost no one else out at that hour. It is very dark on the inner canals, but it is an amazing thing to see Venice this way. Sometimes I go along as a passenger. I often take a notebook and draw while we go through the canals. The drawings have to be really fast since we are constantly moving. He is willing to stop and tie up every once in a while so I can make a drawing from a fixed spot.
I draw almost every day in drawing books made by a Venetian bookbinder, Renato Polliero, using an old pump fountain pen that I can fill with my own waterproof India ink. I love the flexibility of the point of a good old writing pen. For most of my life, I made drawings for completely private purposes and rarely showed or published them. They served only to generate ideas for my engravings. Since I started my drawing blog in 2006, I now draw also in order to share my images anonymously with the world on the Internet.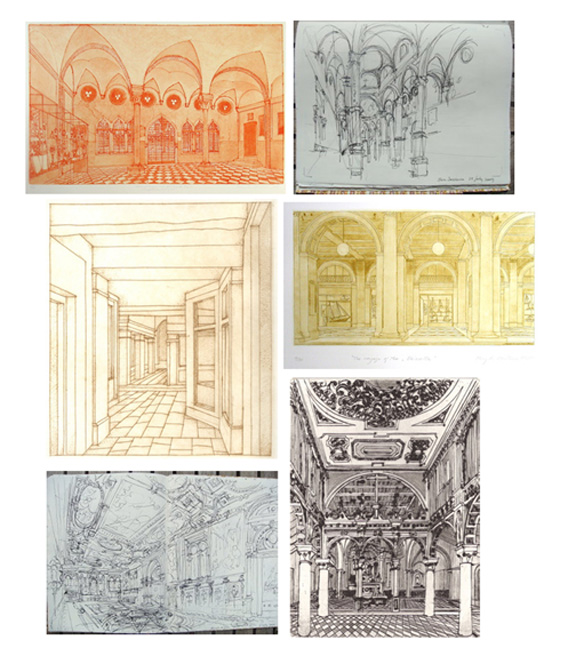 Drawings, and an engraving, by Amy Worthen.
In Venice, I work on my engravings on a big old oak kitchen table I bought for this purpose. The table has a very large drawer, a pullout board for rolling out pasta, and still has its pull out, meter-long rolling pin. For plate prep and proofing, I use the facilities at the Scuola di Grafica.
My laptop computer is on a desk between my engraving table and the terrace door. There is a seven-hour time difference between Venice and Des Moines. Around 4 PM, as my colleagues are arriving at the Des Moines Art Center where it is 9 AM, I log in remotely to the museum's server. From Venice, I can literally work on the computer and printer on my desk in my office in Des Moines. Email is the same whether sent from the office next door or 6000 miles away. Work keeps going in Des Moines until around 5 PM, or midnight in Venice.
In Des Moines, we live on a quiet street in a beautiful old wooded neighborhood. Our house is surrounded by a large yard with three century-old oak trees, bushes, and perennials. I have my own study with all my print history books. My printmaking studio is in the basement of our house. I have a 36 x 60" American French Tool etching press. From 1970, when we moved to Des Moines after graduate school, until 1997 I worked primarily as an artist and a teacher of printmaking, design, and art history. In 1974, I began to curate exhibitions on the history of prints for the DMAC, then was invited to do projects for other museums. In 1997, after I had been doing guest curatorial projects for 20 years, the DMAC finally created my part-time position as curator of prints (now prints and drawings). My responsibilities at the museum include organizing three or four exhibitions a year on prints and drawings, writing gallery guides and labels, gallery talks, doing research on works in the permanent collection, recommending acquisitions, advising on conservation, working as part of the curatorial team, cultivating collectors and donors, etc. We don't have a public print room, so there is no public access to the collection. I am staff liaison for the Des Moines Art Center Print Club, a very active group of print collectors, artists, and people interested in prints. They organize monthly programs, commission prints, and purchase works for the collection.
My arrangement with the museum is that my schedule is mine to figure out. There are times when I have to be present in Des Moines, such as a month or so before the installation of a new exhibition. When I am in Des Moines I work very intensely, plan, and do much in advance to enable myself to be away for my regular two-month absences.
How does the travel influence your life both as an artist and a curator?
I draw more frequently when I travel (and especially, when I am in Venice), than when I am in Des Moines. Besides an infinite number of drawings made in Italy, I have major bodies of work from time I have spent in Japan, France, Russia, Turkey (Istanbul), India and England. I have some drawings from my travels around the US too. I also make drawings while killing time in trains, planes, and airports.
Since I am usually doing research on some aspect of the history of prints, I try to make appointments to visit the print rooms of museums in cities that I happen to visit. When we lived in London on a sabbatical in 1986-87, I enrolled in a year-long class to study lettering engraving at Sir John Cass College, City of London Polytechnic, a college that trained young engravers to pass the Guild exams and become certified engravers. I did this because I knew how to engrave pictorially, but had no sense of how to engrave words or inscriptions so I could print them. As an art historian, I had become curious about the extraordinary calligraphic inscription on an engraving of a Vanitas personification by the Dutch Mannerist engraver, Jan Saenredam. A curator friend at the British Museum suggested that I look at the British Library's collection of engraved calligraphy writing manuals from the 16th and 17th century. After years of research on what became an utterly absorbing topic for me, I ended up writing a long article about this subject ("Calligraphic Inscriptions in Dutch Mannerist Prints," in Goltzius Studies: Nederlands Kunsthistorisch Jaarboek, 1993). In addition to my art historical discoveries on this topic, I was able to incorporate the technical experience I had gained by studying lettering engraving.
Here is a recent example of how curatorial travel influences my work as an artist: On January 21, the day after Barack Obama's inauguration, I flew to Washington DC on a courier trip. Walking up the hill past the US Capitol, I saw that it was still completely set up for the inauguration, but the two million people had all gone home. It was amazing to stand in that place on the day after the inauguration. After I did my research at the Library of Congress, I walked back down the hill, stood in front of the Capitol, and drew the scene. (To see the drawing, please click here.) The next day at 7 AM, I boarded an art shipper's truck at the National Gallery of Art and accompanied several paintings on a 19-hour ride back across the US to Des Moines.
You seem to be interested in certain cultural events that cross the lines and mix things up, like the Afro-Cuban jazz group from S. Marta and The Oxford Project. Could you tell us why they strike a chord with you?
The delight I take in crossing barriers and mixing things up may date from my experiences as a child. I grew up in The Bronx where I attended elementary and junior high school with many kids whose parents were WWII refugees. Many of my friends did not speak English at home. During the summers of 1959 and 1960, when I was 12 and 13, my father, a NYC school principal and science educator, taught National Science Foundation summer institutes for black science teachers at Virginia State College in Petersburg, VA. This was still the era of segregation, and we spent those two summers as the only white family living on the black college campus. As a teenager attending the High School of Music and Art, I absorbed the cultural richness, variety, and excitement of the city.
The Afro-Cuban group from the Santa Marta neighborhood (at the far, far end of Dorsoduro) is great fun. The idea of this nutty group of Rasta-haired Venetian guys singing topical songs in Venetian really appeals to me. I understand Venetian dialect and I follow the local issues that Venetians are concerned about. Santa Marta is probably the Bronx of Venice. Not the most elegant part of Venice but a great place to grow up.
The Oxford Project was a great thing to become involved in. It was created by two University of Iowa professors, Peter Feldstein and Steven G. Bloom. Peter started photographing everyone in Oxford, Iowa in 1984 in part as Conceptual Art and for sociological reasons, but also it was Peter's attempt to be accepted by the residents of this tiny Iowa town that he had moved to. He started rephotographing the same people 21 years later, in 2005, and Steve Bloom interviewed the portrait subjects. Feldstein and Bloom proposed The Oxford Project as an exhibition to the Des Moines Art Center. I was basically assigned the job of evaluating whether it was worth doing at our museum. I was intrigued and organized a selection of the works for an exhibition in 2007. The public response was incredible. The exhibition was also shown in Padova, Italy, where it was very well received. Italian viewers understood that these amazing stories were not just American, they were universal.
You are constantly drawing Venice--how does drawing the place change its meaning for you?
For over 600 years, artists have been drawing Venice. It is the most-drawn and painted city in the world. How can anyone find something new and fresh to say? All I could do was to draw the reality of my own existence there. I drew what I wanted to understand, or where I wanted to explore or spend time. By just remaining in a place and drawing, you see so much more. You experience the life of the place, you become part of it. Because of my constantly drawing in Venice and keeping notebooks, I feel that I understand what Canaletto was doing and experiencing with his drawings.
Last March, I stood on the loggia of San Marco, by the reproduction horses, and made a drawing I'd been thinking about doing for a while--the entire sweep of Piazza San Marco from above. It was cold, but I stood still for two hours and became completely immersed in the making of the drawing. It is a wonderful thing to experience ... a total absorption ... and a strange sense of power that I can do this.
Does working as a curator change your relationship to your own art?
Very much so. Being a curator and an artist is bad in one way. In deciding to work as a curator, I sacrificed my public persona as an artist. There are many conflict of interest issues that can arise. Although my museum has many of my prints in its permanent collection (these were acquired before I became a curatorial staff member), I certainly can't ever include my own work in an exhibition. Also, I feel extremely reluctant to try to promote my work to curatorial colleagues in other museums. That is really up to the gallery that represents my work. (I do have prints in numerous museum collections, but probably could have had a lot more). A museum would like to organize a retrospective of my work, but here again, I barely have time to prepare for it. Being a curator means no longer having all day to work in the studio. Sometimes, I come home and work from after dinner until midnight in the studio.
On the other hand, being a print curator gives me amazing access to museum collections and original art objects. I learn so much. I do not feel unconnected from history, but rather part of a continuum. I don't try to emulate artists who have gone before or who are working now, but I certainly do measure myself against them.
Sometimes work I have done as an artist gives me an idea for an exhibition, even though I can't incorporate that fact into what I write about it. For example, right now I am preparing the exhibition, Art in Ruins, for the Des Moines Art Center. But it is really my own experience of drawing in the wreckage of a relative's house destroyed by fire and making engravings of this, and witnessing a small plane crash and later engraving it, that made me interested in this subject.
Do you see yourself working in both capacities for the foreseeable future?
The Des Moines Art Center is an extraordinary institution with a terrific collection, a great work environment, and wonderful colleagues. I have an enviable work arrangement. I feel I still have something to contribute in the way of teaching about prints. So I will undoubtedly continue to commute from Venice to Des Moines for the foreseeable future.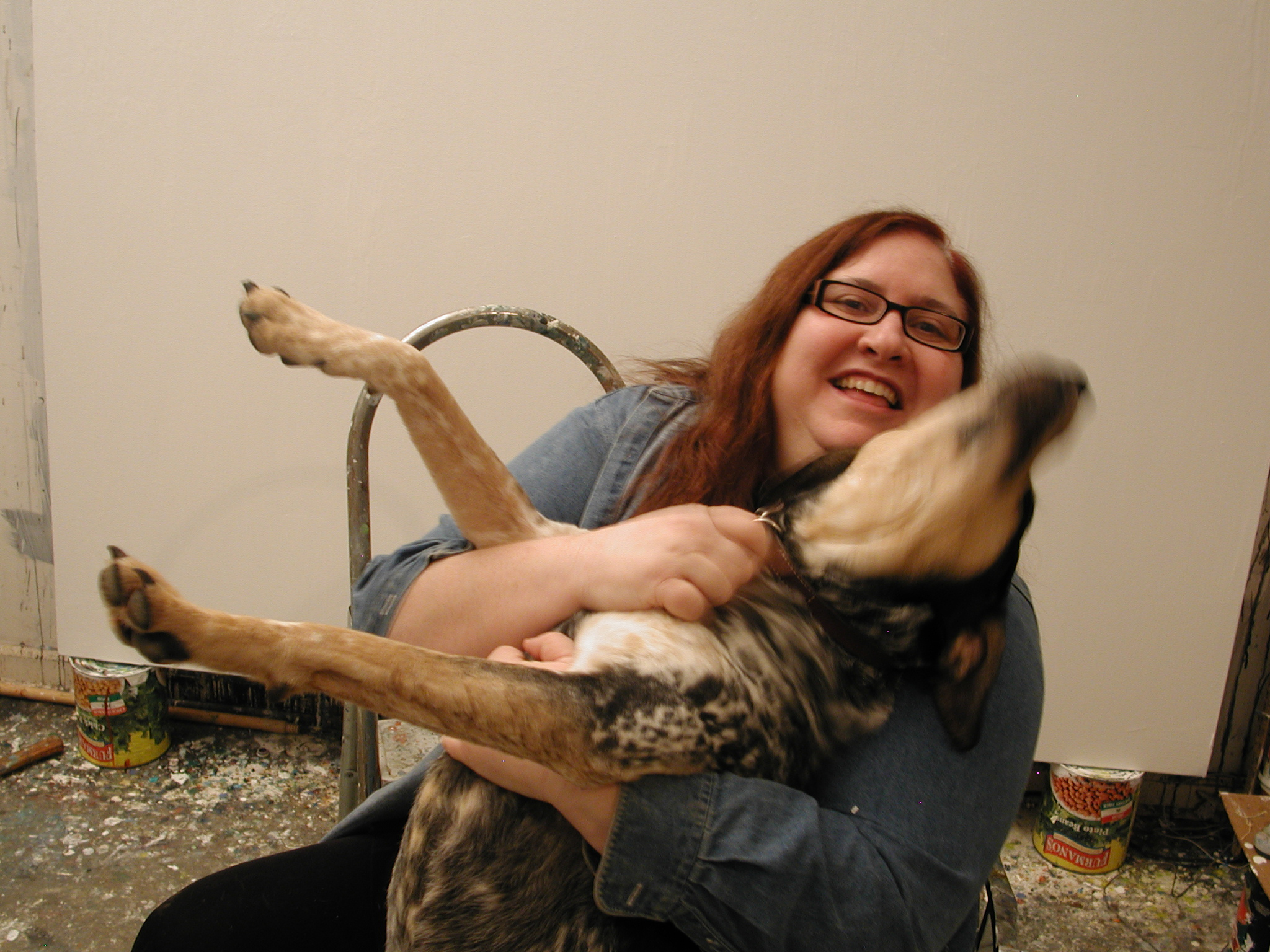 Deanna Sirlin is the Editor-in-Chief of The Art Section and a full time artist.