We have joined the Amazon.com Affiliates Program! if you buy from Amazon by using the box above, The Art Section will receive a percentage of the purchase price. Thank you!
The Art Section is a tax-exempt organization and all donations are tax deductible. If you, your organization or business would be interested in sponsoring The Art Section please contact us at theartsection@gmail.com or make a donation directly through this website.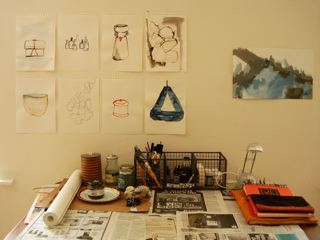 Daphne Warburg Astor, Studio View, 2011. Courtesy of the artist.
An Online Journal of Art and Cultural Commentary
Please visit us on Facebook.
To Subscribe to The Art Section's Mailing List please contact us at
We are pleased to announce that Arnold Simon's

Still Reeling - Psycho Redux, published in the May 2011 issue of TAS,

was given an award in the Magazine Feature Article category of the 80th Annual Writer's Digest Writing Competition.
Welcome to our October Issue,
On Drawing
Guest Edited by Andrew Hewish